According to I Heart Radio, 'NSync has signed with a licensing and merchandise company so that they can release merchandise for the group's 20th anniversary.
[AdSense-B]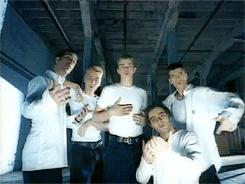 Sounds cool, right?
But how can a band celebrate their 20th anniversary if they haven't done anything since 2002 when Justin Timberlake went solo? Sure, they got together for 30 seconds for the MTV Music Video Awards a few years back, but saying they are celebrating 20 years is like saying my parents who divorced in 1984 are about to celebrate their 45th wedding anniversary.
Yeah, doesn't fly.
"The band is thrilled to create an exciting new line of merch with Epic Rights in celebration of our 20th Anniversary," said founding member Lance Bass, in a statement. Bass will serve as the band's liaison with Epic Rights.
[AdSense-A] Sure, Lance Bass. Sure.
Other 20th anniversary activities include a star on the Hollywood Walk of Fame in Spring 2018, which could coincide with the release of the band's first single, "I Want You Back" in March 1998.
Now the Hollywood Walk of Fame star, I understand. They were a big group back in the day and sold millions of records and sold out tours, etc.  They deserve a spot on the Walk of Fame.
But celebrating an anniversary should be about celebrating TWENTY YEARS TOGETHER AS A BAND, with that band doing something. The Backstreet Boys and Boyz II Men are two groups who can say they never went anywhere and can celebrate those anniversaries. Even New Kids on the Block (as much as I love them), went away for years.
Bless their heart is they think they are really celebrating an anniversary. It's an excuse for the other members to cash in and make some money.
But I'll take a JC Chasez appearance any day. Yes ma'am.