The year was 1999 and the best-selling album was none other than my favorite band-Backstreet Boys smash , "Millennium". Millennium spent ten weeks at number one on the chart, selling 1,130,000 copies in its first week of release, establishing a new record for the largest sales in a single week since Nielsen SoundScan began tracking sales in 1991. Millennium became the best-selling album of 1999, with sales of over 11 million copies. The album also received an Album of the Year and a Best Pop Vocal Album nomination at the Grammy Awards.
The first single, "I Want It That Way", is typical 90s fluff in all the best ways. The lyrics don't make a lot of sense. The mid-tempo is catchy af. And the key change towards the end is perfection. It is the bands biggest commercially successful song; yet it gets a lot of flak, especially from the Backstreet Boys own fandom. And I say: Tell me why?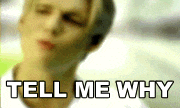 There is nothing wrong with liking a bands signature song. It does not make you "less of a fan" if you prefer it over a deep cut or a B side song.
And I have no problem admitting that for a long time, "I Want It That Way" was my all-time fave.
I have been a fan since 1996 and collected every cd single of BSB's I could get my hands on. European versions. Japanese versions. Versions that were only different due to slight changes in the artwork. You could say I have an extensive catalog of songs.
Yet, there was something about "I Want It That Way" that just hit me right in the feels, so to speak.
I'll never forget the first time I heard it. By the time I had got home from school that day (I was in grade 10), a friend of mine had already called and left a message with my grandmother for me: the new Backstreet Boys single was being played on the radio. Of course, I immediately freaked out and went to my room to listen for it. I didn't have to wait long as it was being played on very high rotation. It was the first time I ever had an emotional response to hearing one of their songs. I cried my eyes out as I listened to it over and over again.
In fact, to this day when they perform this live in concert, I still get misty-eyed.
And then there was the music video. Be still my heart.
It has been parodied many times over, most notably from fellow 90s band Blink 182 in their "All The Small Things" music video.
The all-white clothes. The fans on the tarmac. The "Millennium" airplane. IT. IS. ICONIC.
As I previously mentioned, this song catapulted the group in to superstardom. The 'Into The Millennium" tour was their biggest production yet. BSB merchandise was everywhere, even Burger King. Suddenly, even boys who used to make fun of the group were admitting their love for the song and buying copies of the album.
It was actually cool to be a BSB fan. Especially if you were one from the start. Seeing them finally reach the success they had been working so hard for was satisfying.
And seeing them everywhere on tv was even better.
From commercials to concert specials, to talk shows, there was no shortage of appearances during the Millennium days.
Hearing this song brings back a lot of these memories for me, and I am sure it is the same for a lot of fans.
And I will never get sick of hearing it performed live. And I will belt out the words wholeheartedly with pride and passion just like I have since 1999.
Because I Want It That Way.